Gkey is an innovative, compact multi-tool like nothing seen before…it's truly a work of art with engineering that combines

Gkey is a new multi-tool that will change the way you look at, and use, multi-tools.

Gkey is a solid chunk of 420 Stainless Steel featuring over 16 tool functions that

 

EACH

 provide multiple uses.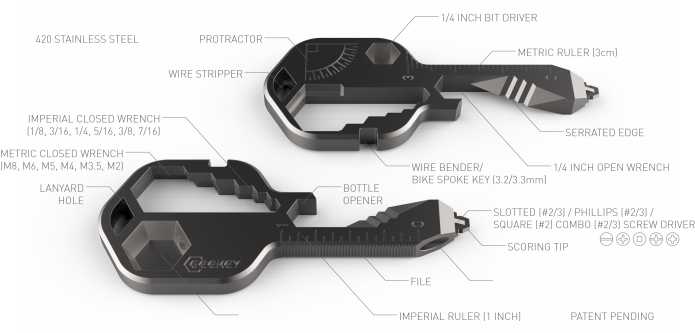 Gkey is made by Metal Injection Molding (MIM) in 420 Stainless Steel, heat treated to H900 and glass bead blasted for an even cosmetic finish.

Both the material and injection process were selected to ensure that Gkey could withstand a lifetime of use.

Gkey features a 3.2/3.3mm (0.127 inch) standard open spoke wrench that easily fits in between bike wheel spokes to rotate the spoke nipple.
Gkey features a new patent pending screw driver tip that will fit a #2/3 Slotted, #2 Square Drive, #2/3 Phillips, and #2/3 Combinations (Phillips/Slotted or Phillips/Square) screw all in one bit. 
Gkey features a new patent pending closed wrench where it has combined both Metric and Imperial sizes into one.
The Imperial side fits: 1/8, 3/16, 1/4, 5/16, 3/8, and 7/16 inch hex sizes. 
The Metric side fits: M8 (13mm), M6 (10mm), M5 (8mm), M4 (7mm), M3.5 (6mm), and M2 (4mm) hex sizes (Note: 13mm also fits 1/2 inch).
Gkey is equipped with a standard ¼ inch hex pocket that will fit any desired bit. 
Gkey is equipped with a scoring tip that can score pretty much anything. 
Gkey features an enclosed serrated edge. Gkey is TSA compliant for carry on.  I've personally checked and carried Gkey on multiple commercial flights.
Gkey has the ability to open a standard metal paint can in multiple sizes.  The geometry of the tip is designed to properly fit under the lid lip to pry the can open.
Gkey is equipped with a 30° corner slot and angled inner edge that provides a sharp wedge that will strip many various sizes of wire.
Gkey has a linear edge file that can be used to file just about anything.  It can file wood, metal, plastic, you name it.
Gkey's open spoke wrench can also perform as a wire bender.  The open profile can fit a wire 3.23mm in diameter or smaller.
Gkey features a standard ¼ inch open wrench that allows the user to freely move the wrench in desired positions while tightening or loosening a fastener.
Gkey is equipped with a 90° protractor, a 1 inch ruler, and a 3 centimeter ruler.  This versatile measuring tool allows the user to have a measurement device on hand for all those quick checks.
Gkey is equipped with a bottle opener that can open any stubborn cap in a pinch…it's a must have feature in any key chain tool and this job made it on the priority list.
Gkey's tip is designed to fit many different screw head styles. 
The driving tip can fit Pan Head, High-Profile Fillister Head, Flat Head, Binding Head, Oval Head, Hex Head, Round Head, Low-Profile Button Head, and Large Diameter Truss Head.
Gkey has a top center hole to link to any desired modality such as a key chain ring or tether.